CA Articleship Stipend Rates Doubled:
In a latest move to to sever the cause of CA students, ICAI increased the stipend rates. The wait of lacs of CA student came to its end as ICAI finally increased stipend rates of CA articleship to double and its applicable from 23rd Jan 2015 itself.
CA Articleship is compulsory 3 years training which every CA students have to undergo for becoming a CA. There is lot of confusion in the article assistant about CA Articleship stipend rates. So, here I am posting the current CA articleship stipend rates applicable in India. You would have knowing that stipend amount varies as per the city population. There is a common complaint in article assistant that stipend amount is very low, so ICAI president had said in one convocation that Articleship stipend will be increased by 2.5 to 3 Times last year, and now its applicable. We strongly recommended that CA Articleship stipend must be increased because the current stipend rate is much lower (may be compatible to salary of Sweeper, if I am not wrong, what you say??). Check the more details about CA Articleship stipend below.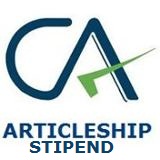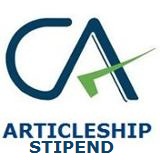 Doubled Rate of CA Articleship Stipend
The current increased CA Articleship stipend rates are given in below table:
| | | | |
| --- | --- | --- | --- |
| Classification of the normal place of service of the articled assistant | During the first year of training | During the second year of training | During the remaining period of training |
| (1) | (2) | (3) | (4) |
| (i) Cities/towns having a population of twenty lakhs and above | Rs.2000/- | Rs.2500/- | Rs.3000/- |
| (ii) Cities/towns having a population of four lakhs and above but less than twenty lakhs | Rs.1500/- | Rs.2000/- | Rs.2500/- |
| (iii)Cities/towns having a population of less than four lakhs | Rs.1000/- | Rs.1500/- | Rs.2000/ |
(source)
Every principal engaging an articled assistant or articled clerk, under Regulation 43 shall pay every month to such assistant a minimum monthly stipend at the rates specified in the table below:
Explanation 1 – For the purpose of  this regulation, no stipend shall be payable for any excess leave taken.
Explanation 2-For the purpose of determining the rates at which stipend is payable under this regulation, the period of Articled training of the student under any previous principal or principals (not being any such period prior to 1st July, 1973) shall also be taken into account.
Explanation 3- For the purpose of this regulation, the figures of population shall be taken as per the last published Census Report of India.
 (2)  The stipend under this regulation shall be paid by the principal to the articled assistant either (a) by a crossed account payee cheque every month against a stamped receipt to be obtained from the articled assistant; or (b) by depositing the amount every month in an account opened by the articled assistant  in his own name with a branch of the [email protected] to be specified by the principal. For more details read >official notification.

Recommended Article:- Check CA Articleship Status/Membership Details with ICAI
Subscribe to our mail updates from below to get notified when ICAI will finally implement increase in CA articleship stipend.