GMCS (General Management & Communication Skills) is a compulsory 15 days training by ICAI. As by its names also, its a training for basic management & communication skills. Communication skill is the fundamental requirement for professionals of every courses, but CAs were generally said to be behind in speaking fundas but now it was past as GMCS is here for the students to make their communication skill more prosperous and sharp. I have written a detailed article for How to Improve Your Communication Skills? check that too.
Here I have given ICAI GMCS 1 , GMCS 2 Course Training, Form, Fees Details. GMCS training is compulsory for every CA aspirants. Scroll down to get GMCS Registration form, GMCS Centers, batches 2017 details.
As you should have been known GMCS is now separated as GMCS 1 & GMCS 2 each of 15 days.
ICAI GMCS 1 & 2 Training
The Council at its Special Meeting held on February 2, 2011 decided that the General Management and Communication Skills Course, presently being organized for 15 days for the CA students should be organized twice during the period of articleship training as under:
(i) GMCS-I (15 days) : during 1st year of articled training
(ii) GMCS-II (15 days) : after completion of 18 months of training but before completion of articled training
In view of the above decision, it is hereby informed that GMCS-I & II Course shall be implemented in respect of those students, who have registered for articled training on or after 1st May, 2012. Students, who have registered for articled training prior to 1st May, 2012 shall be governed by the existing GMCS curriculum.
Fees for ICAI GMCS 1 & GMCS 2
You may be aware that the present fee of Rs.5500/- for General Management and Communication Skills Course was fixed way back in 2013 and has not undergone any revision during the last four years.
Considering the above, the Council has decided to revise the fee for the course on General Management and Communication Skills (GMCS) from Rs.5500/- to Rs.7000/. The students registering for the afore stated course w.e.f. 1st February, 2017 on wards shall be required to pay the revised fee of Rs.7000/-. [ Source: ICAI ]
Not Completed GMCS within 1 year of Articleship
As per ICAI rules, if a student fails to complete GMCS-1 within 1 year, the articleship period will be extended to that extent, upto which the delay continues.
But practically, there are many cases where nothing as stated above happened.
So, students should complete the GMCS in time. If it gets late, then don't worry.
GMCS 1 & GMCS 2 Training Registration Form
Form of GMCS 1 & GMCS 2 registration are given below. Download now.
Form 1:
Form side 2: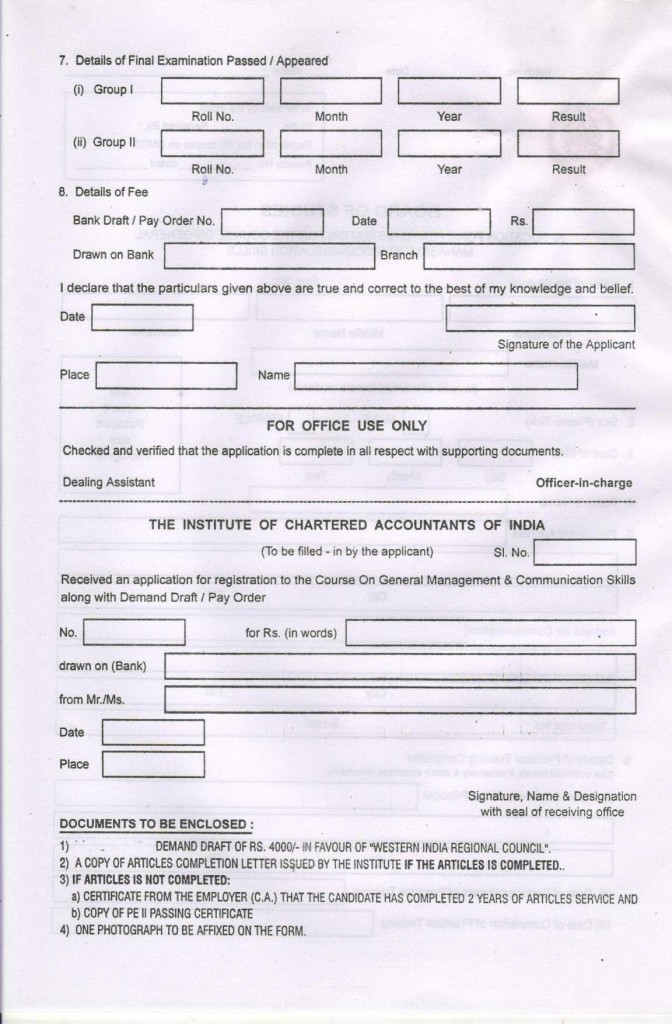 If you have any query then kindly ask me from below comment section.
Details of GMCS Batches/centers will be updated on user demand. Comment below if you want any information about GMCS batches in Ahmadabad, Delhi, Mumbai, Bangalore, Kolkata, Chennai etc.
Stay tuned with us for more updates.