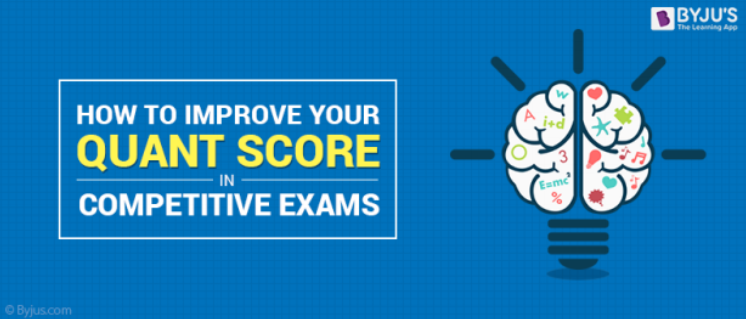 Quantitative Aptitude is considered as one of the toughest section of any competitive exam. Although most students are afraid from quantitative aptitude because it involves Maths, it is one of the most scoring subjects in any competitive exam. Candidates need to score well in each and every section to excel in any exam.
And for that, candidates should have a proper plan on how they can improve every section. There are few mistakes which are done by many candidates while solving quantitative aptitude section in competitive exams. Here are few mistakes which every candidate should try to avoid.
● Not reading the questions completely
● Guesswork
● Risky shortcuts
Mastering Quantitative Aptitude is very necessary to score well in most of the competitive exams. Candidates who know the basic concepts of Maths have a good chance to score well in the exam. Around 75% of the questions can be solved by candidates who have a clear Maths concept. The remaining 25% tests the candidate's ability which can make a huge difference in rank in any competitive exam.
Here we are providing some tips which can help to improve the Quantitative Aptitude score in Competitive Exams.
Easy topics first
Candidates should first start with the easy topics and slowly proceed to the difficult topics. Starting with the basics and easier topics can clear the candidate's concepts and will give them confidence.
One topic at a time
Candidates should not try to cover everything in a single day. They should find a topic for a day and clear all their doubts from that topic and solve all the problems they can find from that topic.
Good study material
Study material is one of the most important components of preparing for a competitive exam. Candidates should follow a proper and trusted study material to prepare for the exam and practice on a regular basis from it.
Clear all concepts
Having a clear concept is very important to score well in the quantitative aptitude section. Candidates should not leave any topic unprepared and move to the next chapter. This can cost them precious marks in the exam.
Write down the problem
Many times while practicing, students solve Maths problems in their mind and proceed to the next one. This should be avoided. Candidates should write down the problem in a notebook and solve it completely before moving to the next sum.
Practice properly
Practice is a very important step to prepare for quants. Candidates are suggested to practice numerous problems from every topic to get a proper depth in the concept. With practice, they will also get to know the different varieties of questions asked in the competitive exams like CAT, GRE, GMAT, IBPS etc.
Note important points
Candidates are suggested to keep a notebook with them to note down the important formulas and points. These notes can help them when they revise before the exam. These are the few tips which candidates can follow to score good marks in the quantitative aptitude section in any competitive exam. With the proper preparation, aspirants can easily develop their own skills to solve sums in a short duration. So candidates should prepare hard with dedication to excel in competitive exams. Subscribe to our YouTube Channel to watch engaging videos on Quantitative Aptitude to prepare in a more interactive and interesting way.