Income tax returns (ITR) filing last date: In a surprise move today, the CBDT has extended due date for filing income tax returns for assessthe ment year 2018-19 for certain taxpayers by one month till August 31, 2018.
The income tax website was down for many hours today and past few days too. Many users had complained of the same to the CBDT on Finance Ministry on Twitter as confiremed by our team. Hence, on a relief not, the due date of filing ITR has been extended for a month.
Zee Business, quoting sources, said that some technical glitches had come to notice and that may well be the reason for the extension of the last date. The number of income tax returns filers has increased, according to officials.
Image of Due Date Extension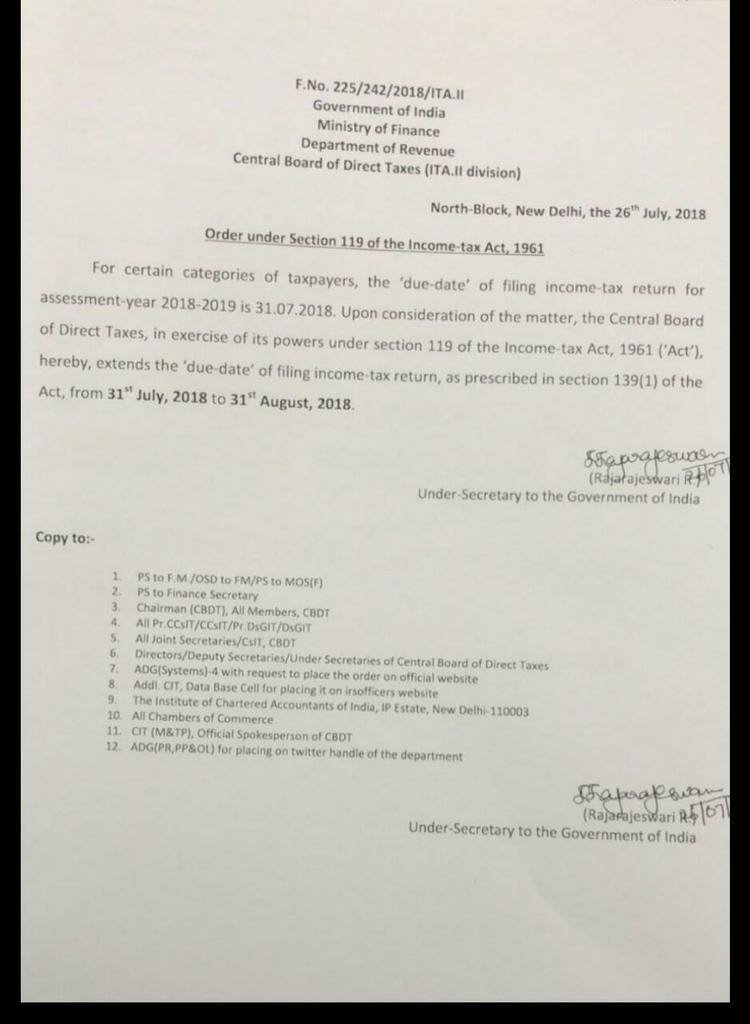 The Finance Ministry, in a statement today evening said that the new income tax return forms were notified early in April and taxpayers (whose accounts are not liable for audit) were allowed to e-file their ITRs till July 31. It added, "Upon consideration of the matter, the Central Board of Direct Taxes (CBDT) extends the 'due date' for filing of Income Tax Returns from July 31, 2018 to August 31, 2018 in respect of the said categories of taxpayers."
Filing tax returns is mandated by law and is an important proof of your tax compliance. Although ITR return forms are fewer, you would need your documents such as PAN, Aadhar card, proof of investment, TDS certificates etc while e-filing the ITR. Keep your 'other income' documents like those of capital gains, rental income, dividend income etc handy too. Documents for foreign income or assets should be organised too.
Stay tuned with CAcracker for more updates.