ICAI has always aimed for excellence in the standard of professional services rendered by its members. The ICAI is entrusted with the responsibility of regulating the accountancy profession in the country and confers the exclusive right to use the designation "Chartered Accountant".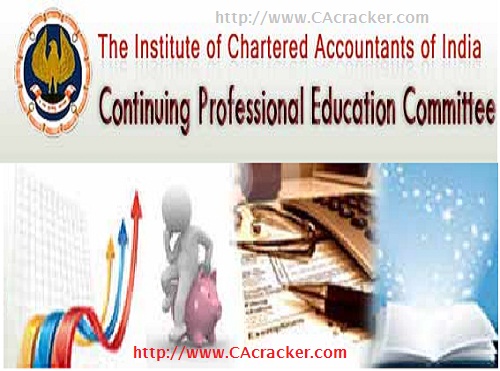 What is CPE Hours ?
With a view to enabling its members to maintain the requisite professional competence and thus ensure high quality and standards in the professional services that they render, the ICAI has identified Continuing Professional Education (CPE) as a major area of focus for the members.  Thus, the ICAI has been providing continued inputs to its members through seminars, lectures, workshops, technical literature, e-learning, web-based training etc. In the year 2003 the ICAI had issued the Statement on Continuing Professional Education prescribing the norms for undergoing CPE activities by the  members and the mechanism to implement the same by POUs (CPE Programme Organising Unit ).
CPE stands for Continuing Professional Education. Its compulsory for every Chartered Accountant of India holding COP (Certificate of Practice) must need to complete sufficient numbers of CPE hours each year. To know the CPE Hours required to be completed by a CA under different circumstances, read our detailed article: >Total CPE hours are required to be Completed for a CA in each year.
You can check your online CPE hours status now online too. ICAI has made special service available for the CAs.
Visit: http://cpe.icai.org/
You need to login in Member Login area at the left side. Your user name would be your membership number and password would be cpe+6 digit membership no.
Recommended Read: Check Your Articleship Status / Membership Details with ICAI
CPE Programme Organising Unit (POU) are responsible for  organising CPE programmes. CPE upcoming programmes details for different cities are also given by the ICAI. You can check that too at http://cpe.icai.org/
Hope this article helped you !!! Now kindly share the knowledge with your friends and fellows. Thank You !!!